Wynyard Golf Club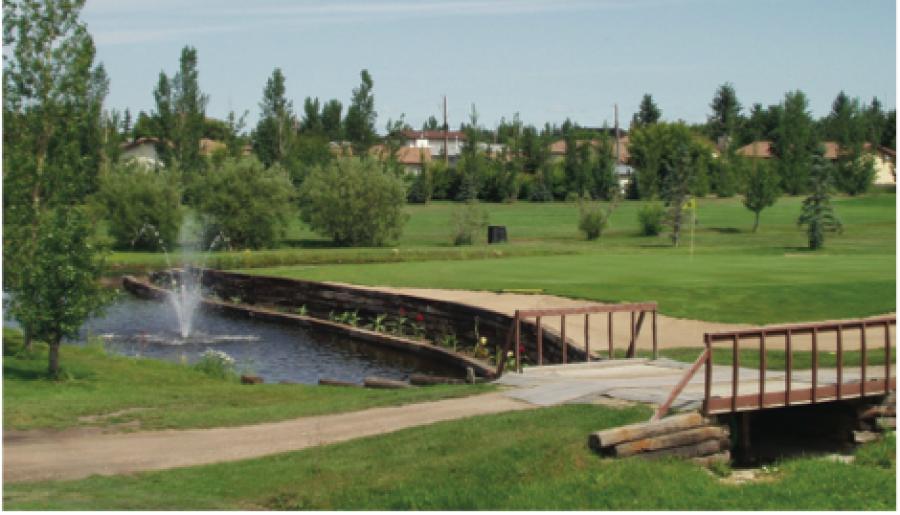 Wynyard Golf Club lays claim to a mature, challenging 9 hole course easily located along the Yellowhead Highway.
Mature trees line the well-groomed, slightly undulating fairways. Forward tees on the longer holes allow for enjoyable play at all levels. Water comes into play on two holes, each presenting it's own individual difficulties. The course
is fully irrigated which keeps it lush the entire season, and the greens are kept beautifully manicured. Along with the trees and water, the other big challenge will be to avoid its numerous sandtraps which make accuracy on your approach to the greens critical.
Wynyard Golf Club has a newly developed "signature" hole. Teeing off on the 110 yard #6 gives you a view of the green almost totally surrounded by sandtraps with water hazard and fountain spray just beyond the back sandtrap. The water stream wraps around just beyond the right of the green creating a challenging combinaiton that allows for little error on your tee shot.
The large practice green just beyond the deck of the cubhouse allows for chipping and putting practice, while awaiting your tee time.
Soft Spikes Mastercard VISA Interac Club Repairs Power Carts Pull Carts Coffee Shop Clubhouse Yardage Markers 9 Holes Dining Room Public Club Rentals Licensed Pro Shop Reservations Putting Green
Wynyard Golf Club
Wynyard Golf Club
Avenue D West
Wynyard, Saskatchewan
(306) 554-2154

Card Member Discount Offers
Offer 1
50% off second green fee
Offer 2
50% off second green fee
Offer 3
50% off second green fee
Offer 4
50% off second green fee
You must have a registered card or phone app for these offers to be valid. Printed pages of these offers are not valid.
One Course redemption only per card for this course each day. Offers cannot be combined or transferred.
Registered card holder must be present. All offers are based on regular green fee prices, UNLESS otherwise indicated.
Sponsors:
x