Sunrise Executive Golf Course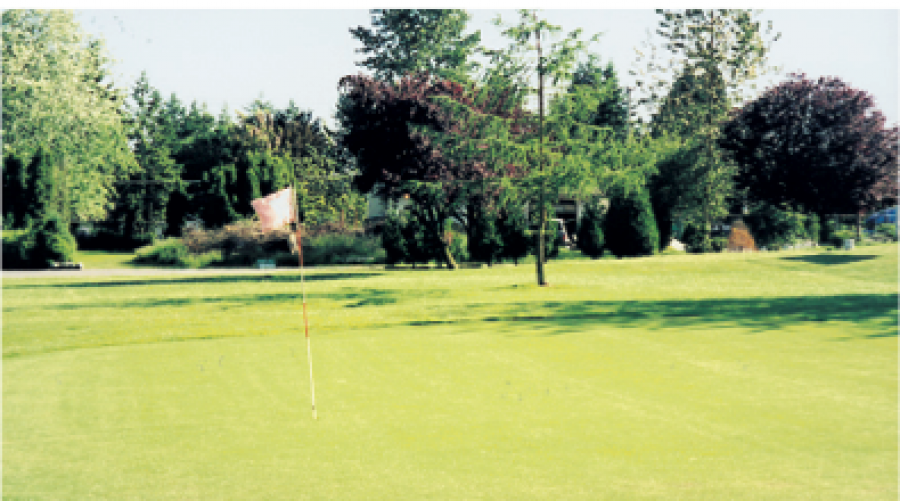 Seeking a way to make your next golfing experience truly electric? Then venture out to the Sunrise Executive Golf Course in Surrey. Not only great for golfers who don't have four hours to spare for a round of golf or who want to work on their short game, Sunrise is also perfect for corporate and family tournaments, and its staff specializes in arrang- ing such affairs.
The course features nine well maintained fairways that play over dramatic elevation changes and range in length from 76 to 195
yards. Most challenging of the group is the 6th - a 116 yard par three that plays upwards to a green that sits a full 40 feet above the tee. Compounding the difficulty of the shot is the presence of a transmission tower on the fairway.
Another good hole is the 7th - Sunrise's signature hole and the course's longest at 200 yards. Already long for a par three, the hole plays even longer thanks to a 10% grade rise from tee to green.
After your round take time to relax on the patio of the bar and grill or at our licensed snack bar where you can enjoy spectacular views of Mt. Baker and the North Shore range.
Soft Spikes Mastercard VISA Interac Pull Carts Coffee Shop Clubhouse 18 Holes Public Club Rentals Dress Code Putting Green
Sunrise Executive Golf Course
Sunrise Executive Golf Course
5640 188th St (corner of 188th and Hwy 10)
Surrey, British Columbia
(604) 576-1995
www.sunrisegolf.ca
Card Member Discount Offers
Offer 3
4 for 3 green fees
Offer 4
4 for 3 green fees
You must have a registered card or phone app for these offers to be valid. Printed pages of these offers are not valid.
One Course redemption only per card for this course each day. Offers cannot be combined or transferred.
Registered card holder must be present. All offers are based on regular green fee prices, UNLESS otherwise indicated.
Sponsors:
x