Mannville Riverview Golf Course
Save up to $120.00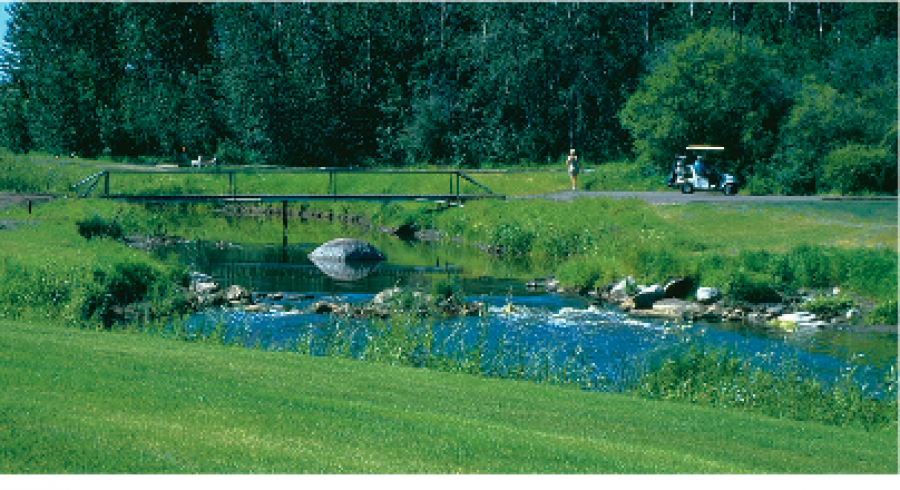 Scenically located in the Vermillion River Valley, the Mannville Riverview Golf Course is conveniently located a short 10 minute drive north of town on Highway #881. Still a young course (it first opened in 1995), Mannville Riverview has retained much of the natural setting that was present before the course was built. Its rough is marked by the presence of lots of trees and a heavy under-growth, which may be attractive to the eye but can be detrimental to a good score.
The course's well-thought-out design provides enjoyment for all levels of golfers. Better players will appreciate its target style layout with many ponds in play, forcing golfers to continually make tactical decisions on where to place their shots. Lesser skilled players will enjoy Mannville Riverview for the fact that it can be played as short as 2,335 yards, as well as the many opportunities it allows for the golfer to play it safe with well placed bailout areas near most of the hazards.
The toughest hole on the course is the 3rd, a 152 yard par three that features an island green. From the tee you only have one option, place your ball on the green. If you fail in this task a bogey is assured, and a double bogey most likely.
Great for the travelling golfer, Mannville Riverview also features a campground off its parking lot with full hookups and showers available in the clubhouse.
American Express Mastercard VISA Interac Power Carts Pull Carts Rainchecks Coffee Shop Clubhouse Yardage Markers Driving Range 9 Holes Dining Room Public Club Rentals Licensed Pro Shop Reservations Putting Green
Mannville Riverview Golf Course
Mannville Riverview Golf Course
Township Rd 510A
Mannville, Alberta
(780) 763-2252

Card Member Discount Offers
Offer 1
2 for 1
Valid anytime!
Offer 2
2 for 1
Valid anytime!
Offer 3
2 for 1
Valid anytime!
Offer 4
2 for 1
Valid anytime!
You must have a registered card or phone app for these offers to be valid. Printed pages of these offers are not valid.
One Course redemption only per card for this course each day. Offers cannot be combined or transferred.
Registered card holder must be present. All offers are based on regular green fee prices, UNLESS otherwise indicated.
Sponsors:
x