Esterhazy Golf Club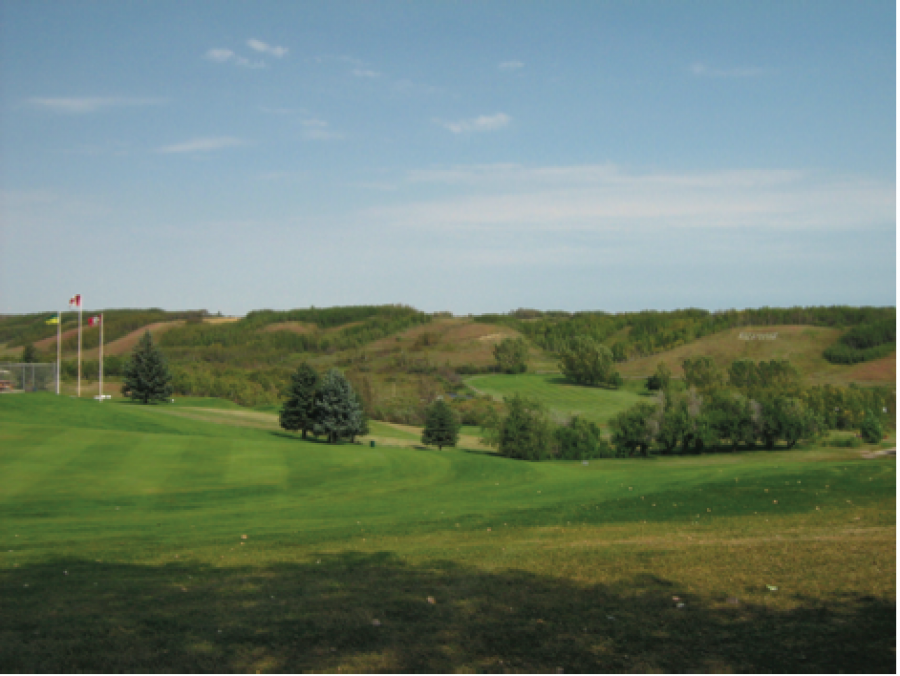 The Esterhazy Golf Club will be a pleasant surprise for any one expecting a flat prairie golf course. The course layout utilizes the terrain bordering the Kaposvar Creek to great advantage and has elevation differences of up to 90 feet encountered during play. Par on the beautifully maintained 9 hole course is 33 for men and 35 for ladies and plays to a 106, 114 slope with total yardage of 2735 yards. With a well planned design
that brings the meandering creek in to play and the naturally occurring elevation changes, the course will prove demanding enough for the low-handicap player yet open landing areas make play enjoyable for the high handicapper. Golf cart rentals are available and all are welcome to enjoy our licensed lounge.
Reservations are required on weekends and holidays and it is suggested that you call ahead at other times to ensure an open tee.
Soft Spikes Mastercard VISA Interac Power Carts Pull Carts Coffee Shop Clubhouse Yardage Markers 9 Holes Public Club Rentals Licensed Pro Shop Dress Code Reservations Putting Green
Esterhazy Golf Club
Esterhazy Golf Club
4th Ave
Esterhazy, Saskatchewan
(306) 745-6456

Card Member Discount Offers
Offer 1
Free cart with 2 green fees
Offer 2
Free cart with 2 green fees
Offer 3
Free cart with 2 green fees
Offer 4
Free cart with 2 green fees
You must have a registered card or phone app for these offers to be valid. Printed pages of these offers are not valid.
One Course redemption only per card for this course each day. Offers cannot be combined or transferred.
Registered card holder must be present. All offers are based on regular green fee prices, UNLESS otherwise indicated.
Sponsors:
x