Bridal Falls Golf Course (temporarily closed for pipeline)
Save up to $100.00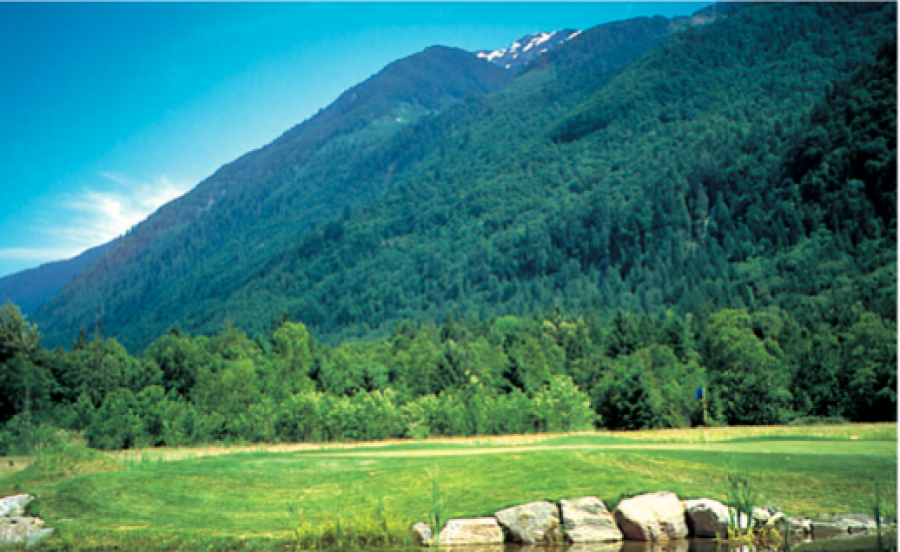 At the base of Cheam Mountain, and within earshot of the roar from Bridal Falls, sits this attractive 9 hole layout.
The course has been cut from natural rain forest. Most of its fairways start narrow off the tee, but open up near the landing areas. Water hazards
on the course consist of two large lakes, plus a mountain brook. The course's many large silica sand bunkers have been strategically placed to channel play and penalize errant shots.
The 3rd hole with its split fairway is both the most interesting, and the most difficult on the course. About halfway down this 420 yard par four, the fairway is halved by a 15 foot ridge running down its middle. Whether you choose the high or the low road to get to the green, this is bound to be a hole you won't soon forget.
An attraction in its own right, Bridal Falls Golf Course is set conveniently close to a number of tourist attractions. Minter Gardens, Dinotown, Trans Canada Waterslides, Camperland and, of course Bridal Falls are all within easy walking distance.
Mastercard VISA Interac Power Carts Pull Carts Lessons Rainchecks Semi-Private Coffee Shop Clubhouse Yardage Markers Driving Range 9 Holes Club Rentals Licensed Pro Shop Dress Code Reservations Putting Green
Bridal Falls Golf Course (temporarily closed for pipeline)
Bridal Falls Golf Course (temporarily closed for pipeline)
53191 Bridal Falls Road
Chilliwack, British Columbia
(604) 794-7788
bridalfallsgolf.com
Card Member Discount Offers
Offer 1
Free Small Bucket with Paid Green Fee.
Valid Any day
Offer 2
10% off 1-4 players
Valid Any day.
Offer 3
25% off second green fee
Valid any day.
Offer 4
2 for 1
Valid any day.
You must have a registered card or phone app for these offers to be valid. Printed pages of these offers are not valid.
One Course redemption only per card for this course each day. Offers cannot be combined or transferred.
Registered card holder must be present. All offers are based on regular green fee prices, UNLESS otherwise indicated.
Sponsors:
x